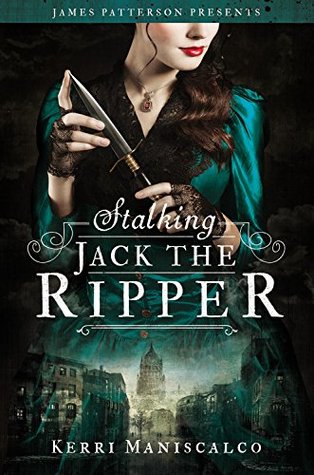 title: Stalking Jack the Ripper (#1) & Hunting Prince Dracula (#2)
author: Kerri Maniscalco
genres: Young Adult, Historical, Mystery
publisher: Jimmy Paterson
release date: Sept 20th, 2016 & Sept 19th, 2017 respectively
spoilers: vague to none
Goodreads Summary (book one): 
❝Seventeen-year-old Audrey Rose Wadsworth was born a lord's daughter, with a life of wealth and privilege stretched out before her. But between the social teas and silk dress fittings, she leads a forbidden secret life.
Against her stern father's wishes and society's expectations, Audrey often slips away to her uncle's laboratory to study the gruesome practice of forensic medicine. When her work on a string of savagely killed corpses drags Audrey into the investigation of a serial murderer, her search for answers brings her close to her own sheltered world.
The story's shocking twists and turns, augmented with real, sinister period photos, will make this dazzling, #1 New York Times bestselling debut from author Kerri Maniscalco impossible to forget.❞
in my wicked anticipation for escaping from houdini – the third installment in the series, which is coming out september 23rd of this year, i decided to review the first two novels. i listened to the stalking jack the ripper audiobook last summer on a bus trip to the seaside, but could not concentrate enough on it so i ended up rereading the book a year later and fell in love! i devoured hunting prince dracula immediately after that, because i couldn't get enough of kerri maniscalco's writing.
the first book follows the events of september 1888, when the infamous jack the ripper was terrorizing the streets of london. the historical accuracy in this book is phenomenal, and it is crystal clear that maniscalco has done her research well. (of course, there are a few tweaks here and there, but such creative liberties are explained in the author's note.) i found it so fascinating how maniscalco manages to connect real figures and events to her fictional story in such a seamless way – even down to the minutest details. it feels like you're reading a real life victorian lady's journal entries! Continue reading "stalking jack the ripper & hunting prince dracula by kerri maniscalco; a review" →