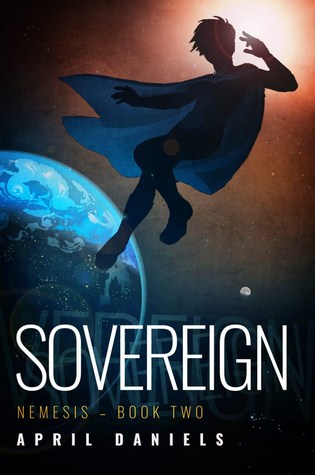 Title: Sovereign
Author: April Daniels
Series:  Nemesis #2
Genres: Young Adult, Sci-Fi
Format: eBook
Publisher: Diversion Publishing
Release Date: July 25th, 2017
Source: NetGalley
Goodreads Summary:
Only nine months after her debut as the fourth superhero to fight under the name Dreadnought, Danny Tozer is already a scarred veteran. Protecting a city the size of New Port is a team-sized job and she's doing it alone. Between her newfound celebrity and her demanding cape duties, Dreadnought is stretched thin, and it's only going to get worse.
When she crosses a newly discovered supervillain, Dreadnought comes under attack from all quarters. From her troubled family life to her disintegrating friendship with Calamity, there's no trick too dirty and no lever too cruel for this villain to use against her.
She might be hard to kill, but there's more than one way to destroy a hero. Before the war is over, Dreadnought will be forced to confront parts of herself she never wanted to acknowledge.
And behind it all, an old enemy waits in the wings to unleash a plot that will scar the world forever.
Sovereign is the thrilling sequel and conclusion to the Nemesis duology. The story follows a young transgender girl, Danny, that inherits the previous Dreadnought's powers after he is killed in a battle with a supervillain. In the first book, Danny had to deal with her new appearance, her abusive family and the superheroes from the Legion, as well as the ultimate supervillain the world has ever known. In Sovereign, Danny faces new challenges in the faces of new and old foes alike, including one that threatens to rip the world apart.
In my review of the first book I said that the writing is "engaging and easy to follow", which may have been true (thank you, my dear failing memory), but I felt like it wasn't as true for this book. Maybe it's because of the time passed or because of different circumstances, but it was harder for me to get into Sovereign because the writing, for me, was a little bit too… mechanical? Detached?  There was also quite a bit of telling and not a lot of showing when it came to introducing us readers to the new technology in the books. That being said, there were some parts where the writing seeped emotion and mainly in the scenes where Danny struggles with her inner conflicts.
Since I've now mentioned Danny and her conflicts, let's take a seat and talk about that for a minute. Danny is a beautiful character because she is flawed. She's not your typical righteous superhero that always keeps her own emotions in check in favour of doing The Right Thing. I mentioned in my previous review how the characters were a little too black/white good/bad for me, but Sovereign makes up for it. We see a side of Danny that is raw and painful and angry. There is so much emotion pent up inside her from a live lived in fear that results in some brash actions, but not into a supervillain origin story. What I really appreciated was how the narrative allowed Danny to feel all those negative emotions, but not let her get consumed by them.
I really just focused on Danny while reading and that's why I can't say too much about the other characters. I still love Calamity. I still very much want to punch Graywytch in the throat. Not much has changed, honestly.
– SPOILER –
What kind of fell flat for me was how easily the Nemesis storyline was wrapped up. After such a big build-up, I expected it to be explored a bit more, but perhaps that could be done in a different book entirely. Nevertheless, I'm really happy with the ending the characters got.
– SPOILER –
Overall, Sovereign is far from the perfect conclusion, but that does not mean it was a bad one either. While reading I had a recurring thought in my head how this story would work so much better as a graphic novel –  the world felt too complex and that didn't translate too well on paper. That being said, it's been an honour to go on this journey with Danny and witness how she grows into herself.